Bespoke Fabric Project for VIVIANO Vol.2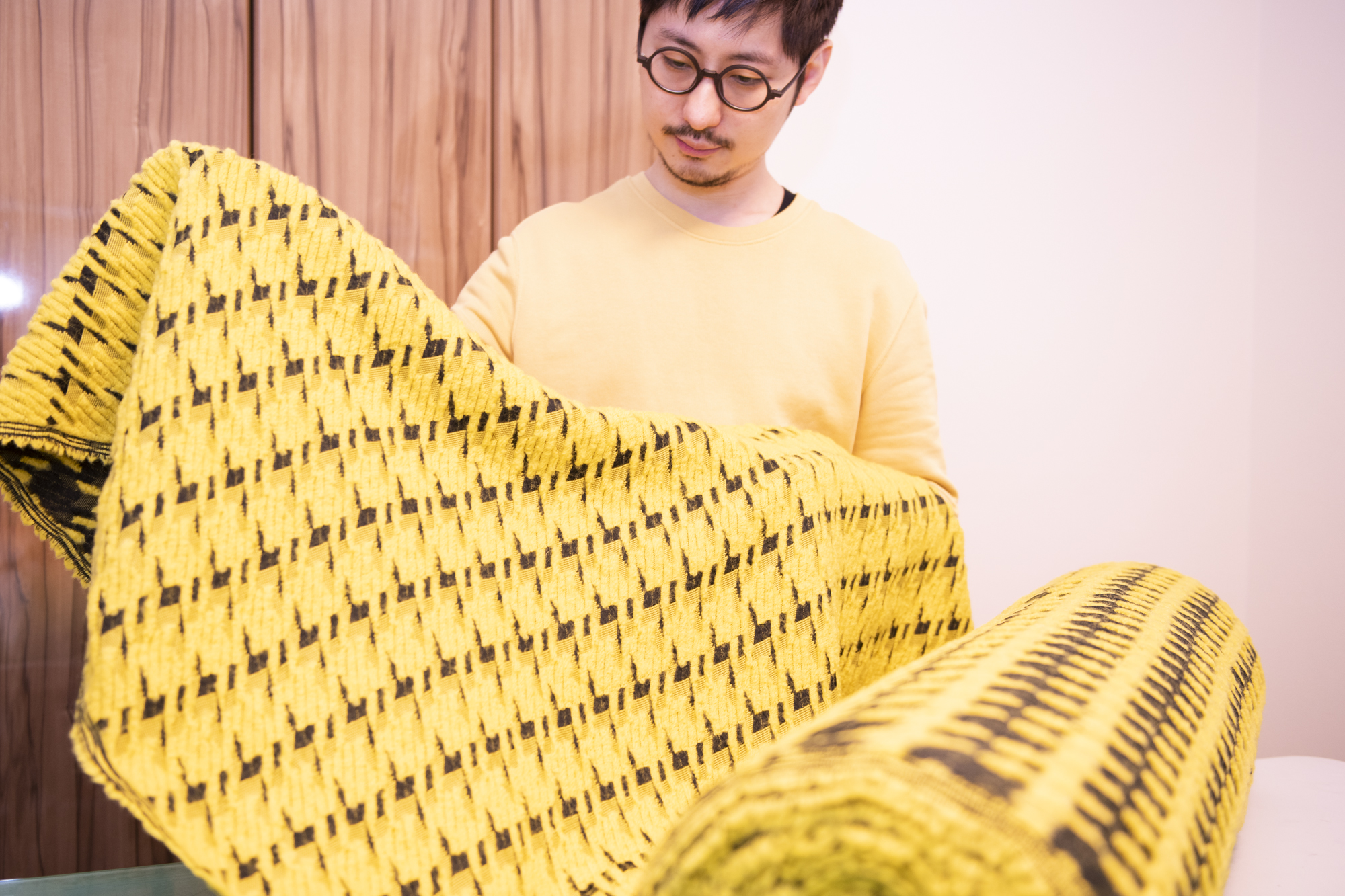 Here is an update about the VIVIANO×KIRYU textile collaboration project. We can now follow the development of each fabric.
MITASHO created a dogtooth Jacquard for VIVIANO. Based on the original sample of black and ecru dogtooth, VIVIANO's version came out in black and bright yellow.

Mita, the director from MITASHO explained, "The warp is made of micro polyester, the wefts are loose-spun wool and cupro. Weaving two very different wefts together, chunky wool and thin cupro, is always challenging for us, as it requires a special loom and careful manual adjustments."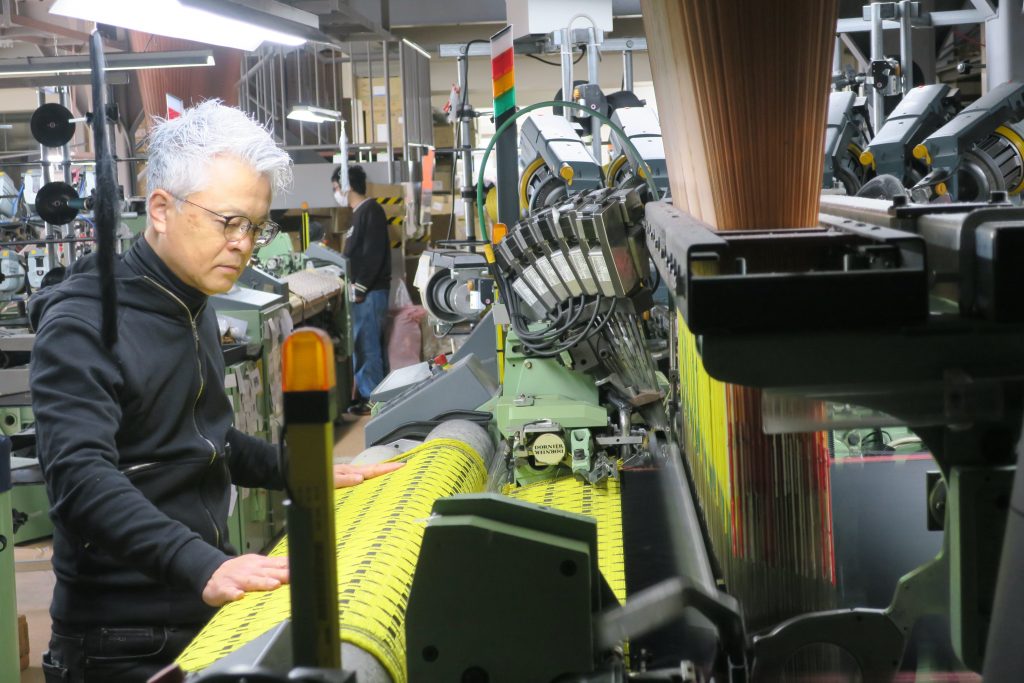 A milling finish was added to the fabric. It is a process to give a designed shrinkage to wool fabrics by washing them in hot water. "The finished fabric width shrunk to 94cm from the original 130 cm. The wool weft shrinks much more than the two other materials used, polyester and cupro, and this difference creates an interesting volume and texture." The finished fabric width was also discussed with the designer beforehand. With the shrinkage rate taken into the calculation, the milling process was only completed successfully by a keen eye and specialist knowledge, using exactly the right volume of water, the right temperature, and accurate timing.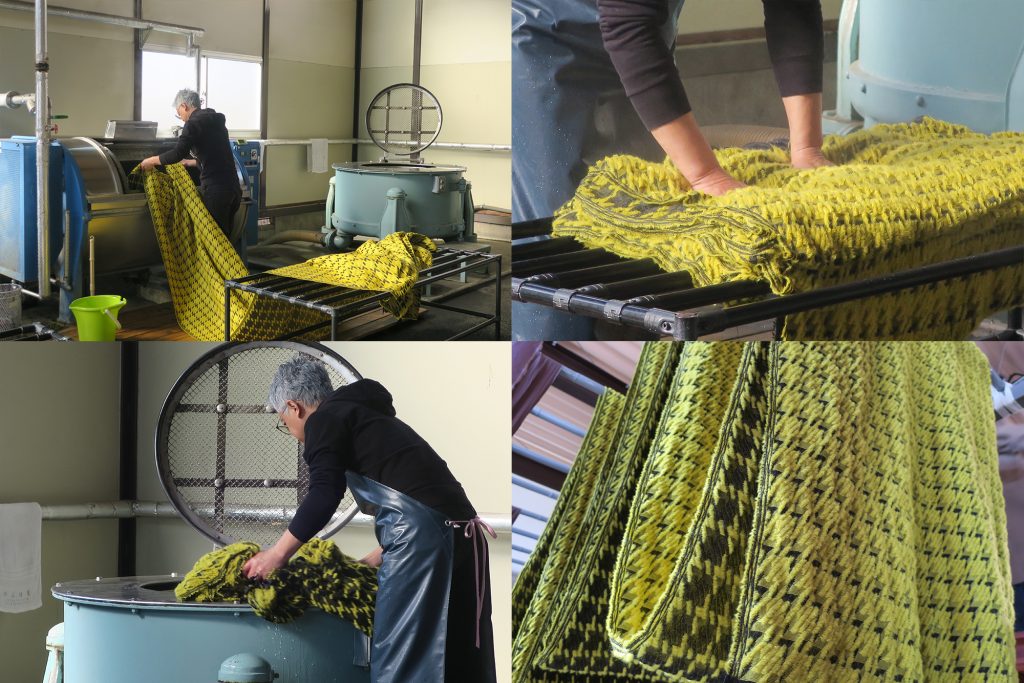 The designer was more than happy when the finished piece arrived. "This is just what I wanted. Absolutely divine ! " he said. Due to the pandemic regulations, he only managed to check the finishing process remotely, but that does not seem to have diminished his satisfaction.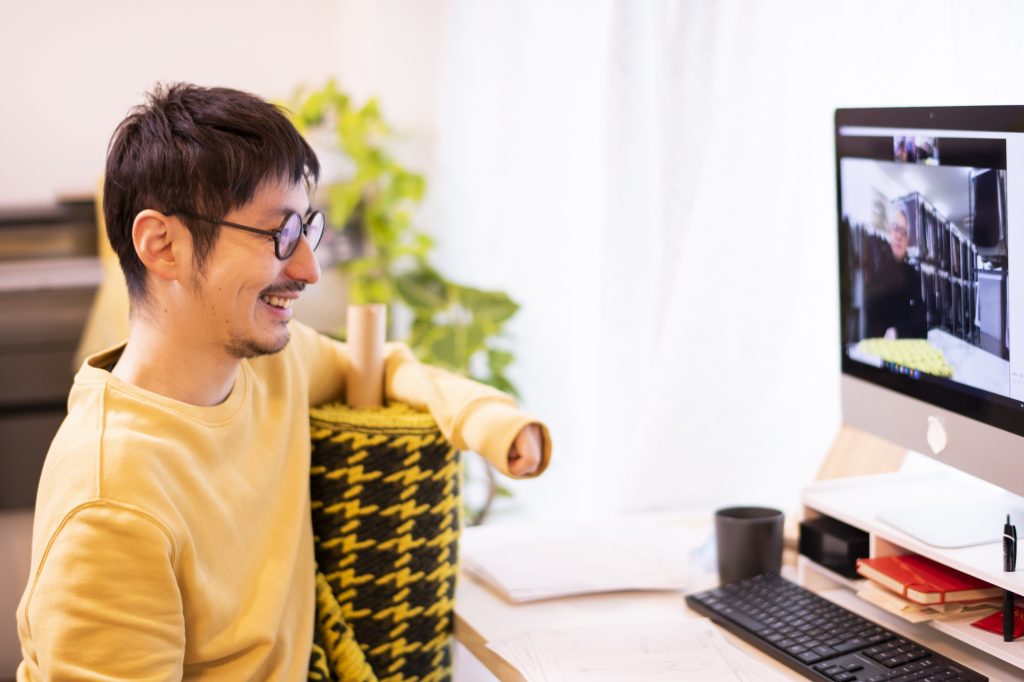 VIVIANO "The fabric is super lightweight. Did this come from milling?"
MITA "Yes, this fabric is woven with lower density to be milled into shrinkage."
VIVIANO "Woolen overcoats can feel heavy on the shoulders, but this fabric would make thick and light ones. Also the fluffy texture makes it look warm."
MITA "Actually it holds warmth very well, as it is a double-weave fabric, and also contains the loose-spun, warm yarn."
VIVIANO "It is so gorgeous that I would love to make 3 or 4 patterns with this: overcoat, vest, skirt, and probably…jumpsuit !"
On the same day, another collaborative fabric with TSUKUHIRO was also handed to the designer. It was a Jacquard with a plant pattern, again in yellow.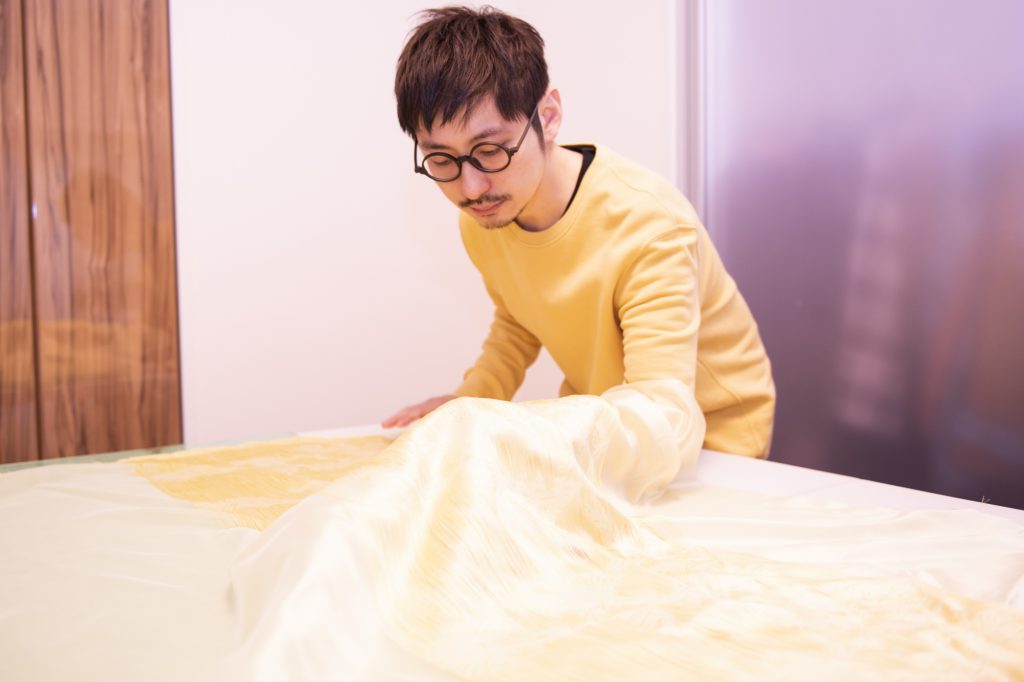 Tsukui, the TUKUHIRO director said, "The designer requested a detailed pattern repeat; 40 cm with the plant pattern, 50 cm of plain weave. The materials used are nylon on the warp, cupro and poly-wool on the weft, in two different shades of yellow. The plant pattern is based on the original blue and yellow sample piece we have shown to the designer."

As the designer mentioned in the last report, this VIVIANO Jacquard is finished without clipping the excess weft.
"That is a striking feature of this fabric. I had never thought of this myself as Kiryu Jacquard is renowned for it's clipping! This novel attempt will be very creative, I think", Tsukui said.
VIVIANO's fabric was, unusually, finished only with a minimal process of smoothing it. This almost 'freshly woven' Jacquard is full of potential, Tukui remarked with much expectation, wondering what the fabric would look like when made into garments.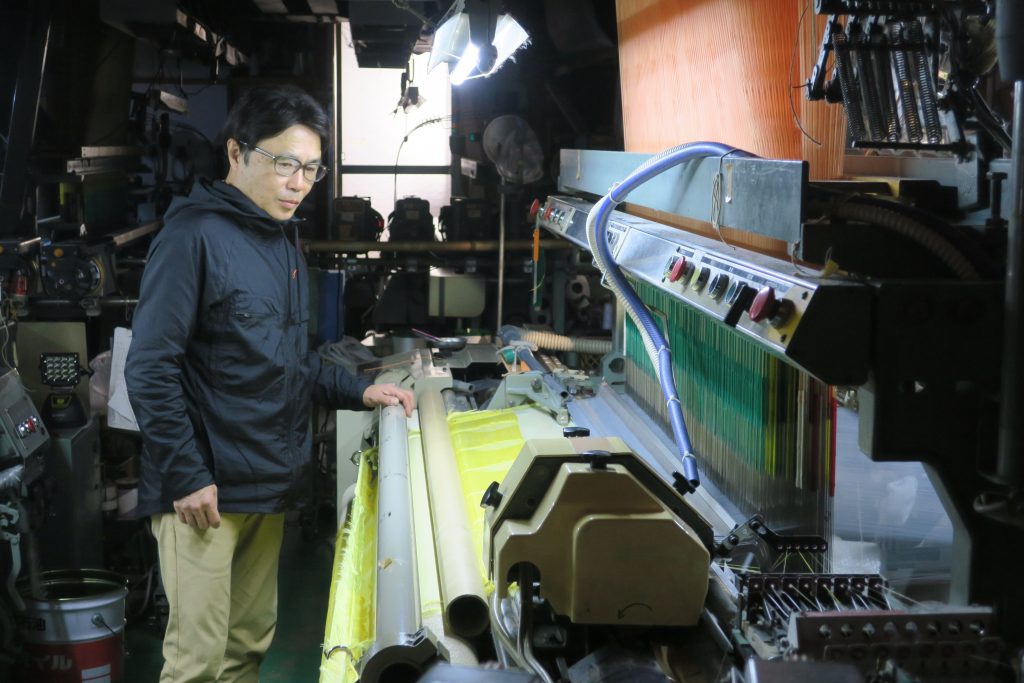 This unclipped Jacquard met the designer's expectations, praised as gorgeous and exquisite as all other TSUKUHIRO pieces. "The first sample made was in black and yellow, matching with my next collection's colour scheme. But it felt slightly too dark and heavier than I expected. Then we changed it to shades of yellow, which resulted in such an amazing piece. Especially the contrast of the two yellows, one a subtle beige and the other bright, is absolutely stunning. The unclipped weft will be covered with a layer of organza so that it won't catch. It should look as if it is covered with a translucent filter to maximize the advantages of the fabric's own quality.
VIVIANO is thinking of clipping the weft by himself as a part of the design. We are very curious about the outcome.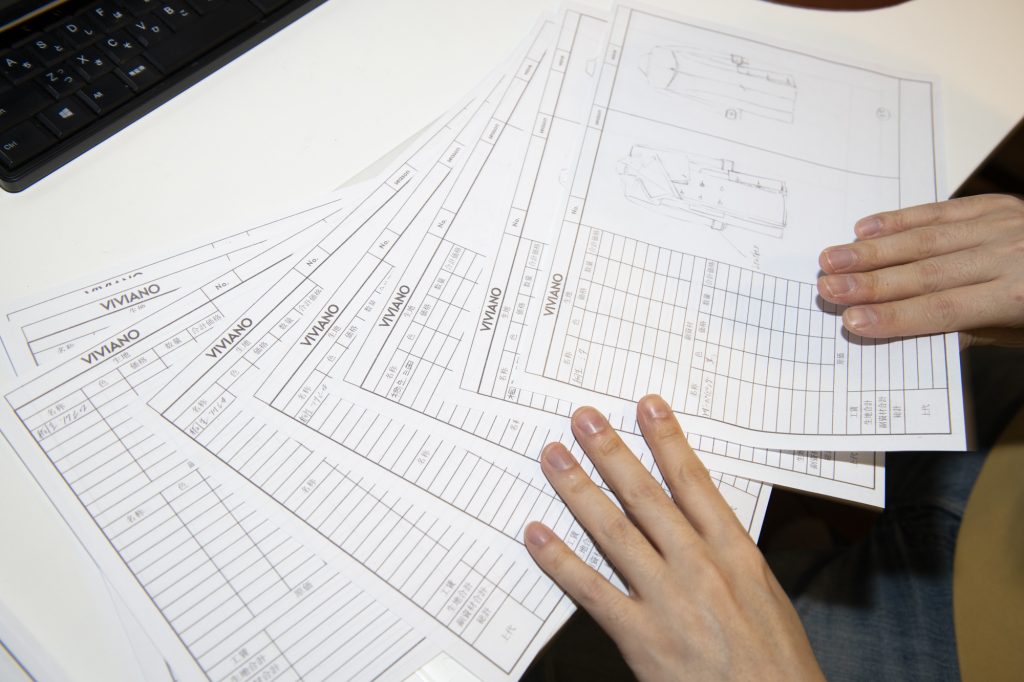 The next collaborator, KIRYU SEISEN is now working on "the special fabric made of fishing line with reflective sheen." We will feature this new fabric in the following report as well as VIVIANO's lookbook images with items made by this collaborative project. Stay tuned.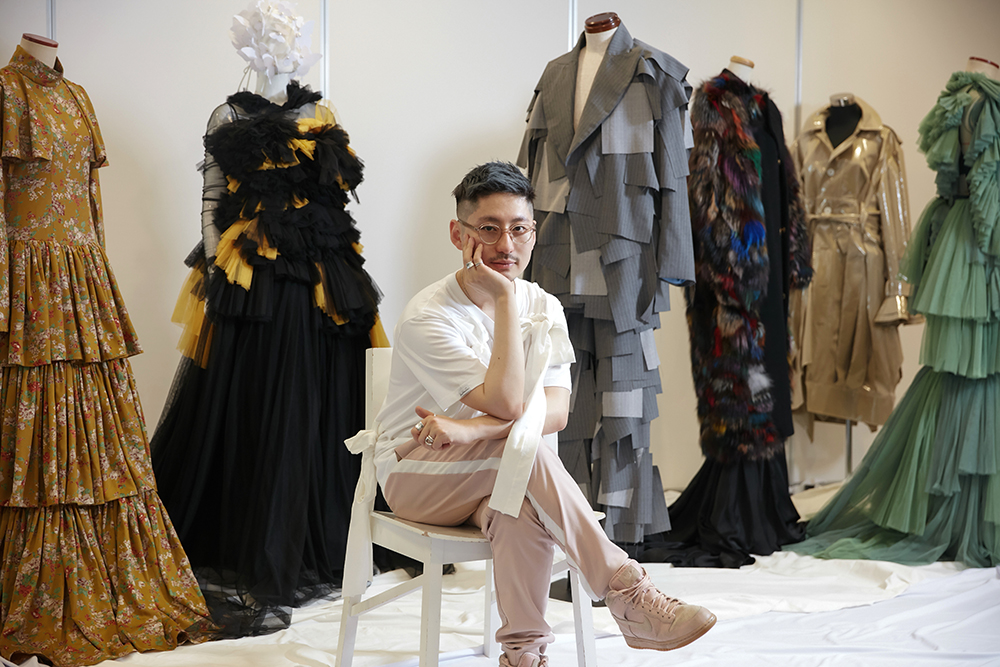 VIVIANO SUE
Born in China, grew up in the USA, and living in Tokyo since 2008. After finishing a diploma at Bunka Fashion College (Tokyo), Viviano set up his own brand and started bridal and couture work. The brand moved on to launch Prêt-à-Porter lines. Based on his background in three countries, Viviano draws inspiration from the crossover of Eastern and Western cultures. As seen in the articles of Vogue, Superior Magazine, GlamourUK and L'Officiel, he is much anticipated as an up-and-coming designer.
●If you would like to work with KIRYU textile…
The collaboration with Viviano Sue has already attracted wide attention in the industry, and KIRYU textiles will be happy to meet more emerging fashion designers. You will get the chance to team up with the top weaving manufacturers in Japan, featuring state-of-the-art jacquard fabrics for your ambitious fashion projects. Please leave a message via the contact form on this website.