IHNN and KIRYU textile appear together in London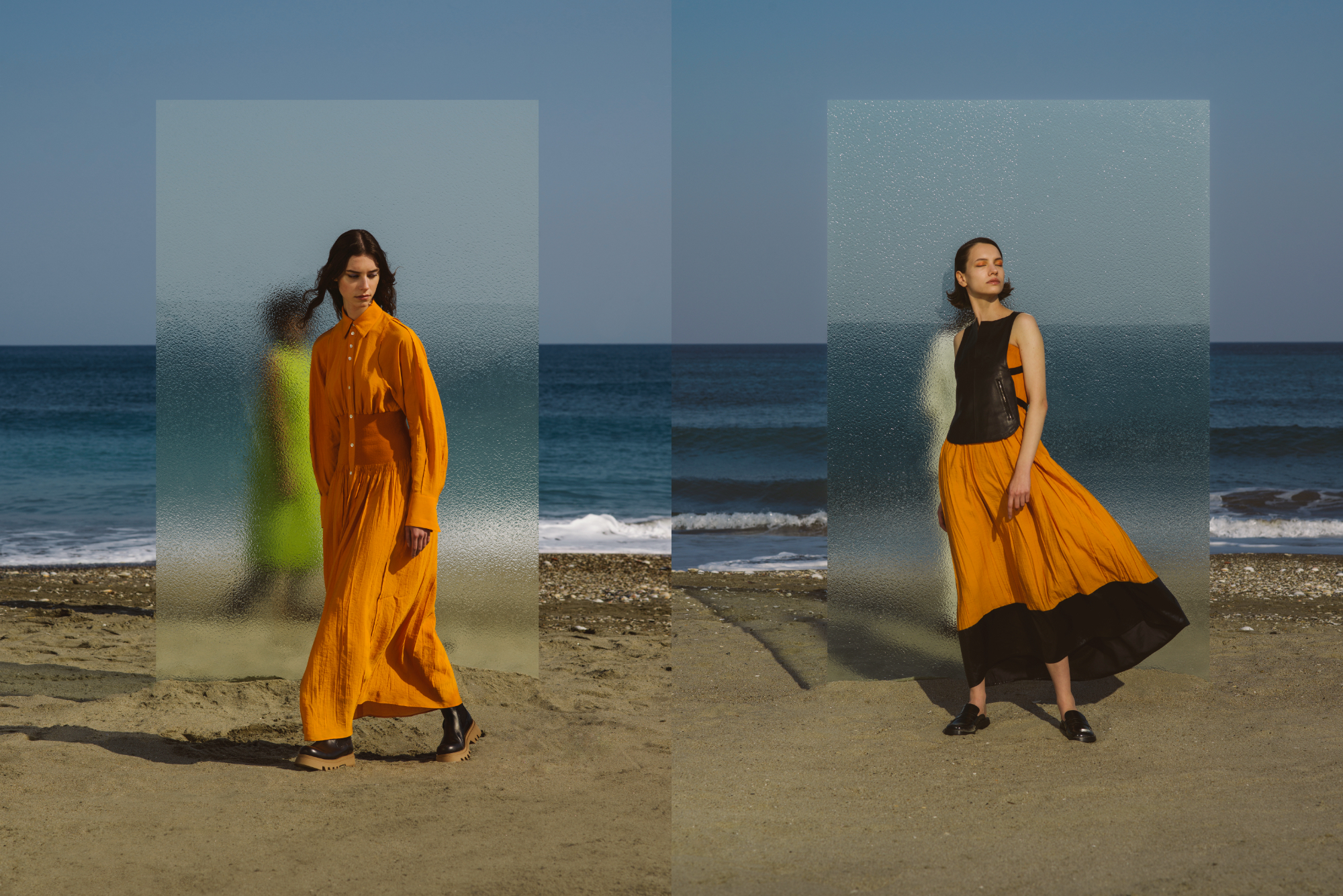 Dress and skirt made from TSUKUHIRO's fabrics.
IHNN, the fashion brand led by Chisung Ihn, a Korean designer based in Tokyo, has opened a new chapter with KIRYU textile. In collaboration with Kiryu weavers KOBATO, Kiryu Seisen and TSUKUHIRO, they joined London Fashion Week 2021AW.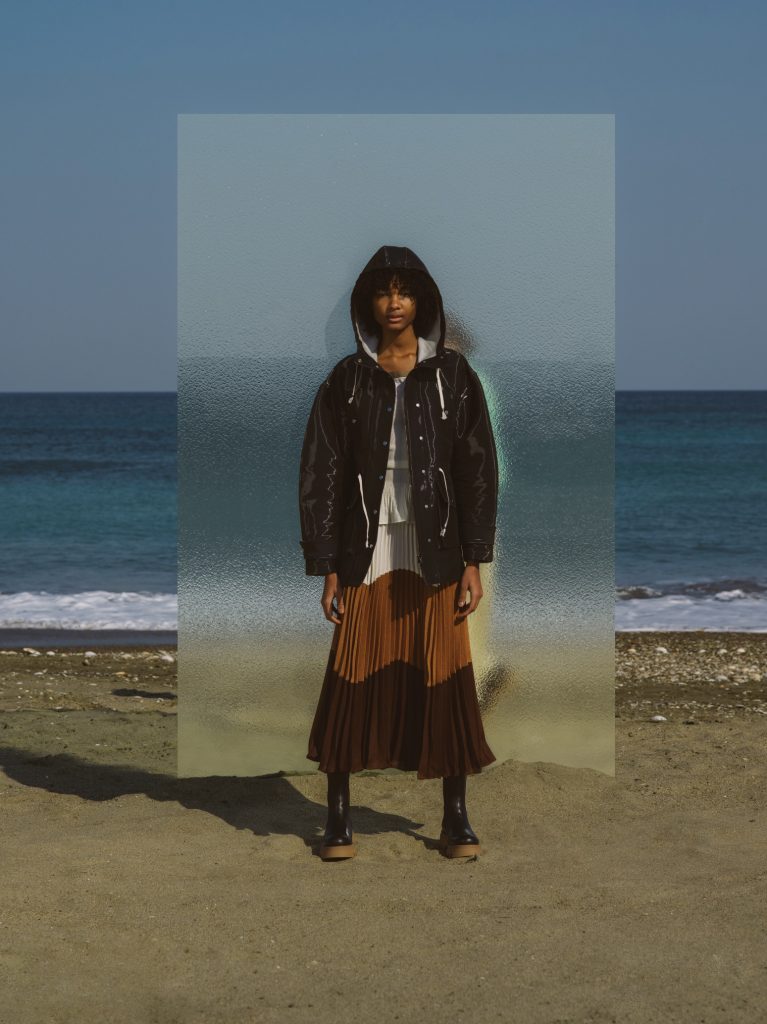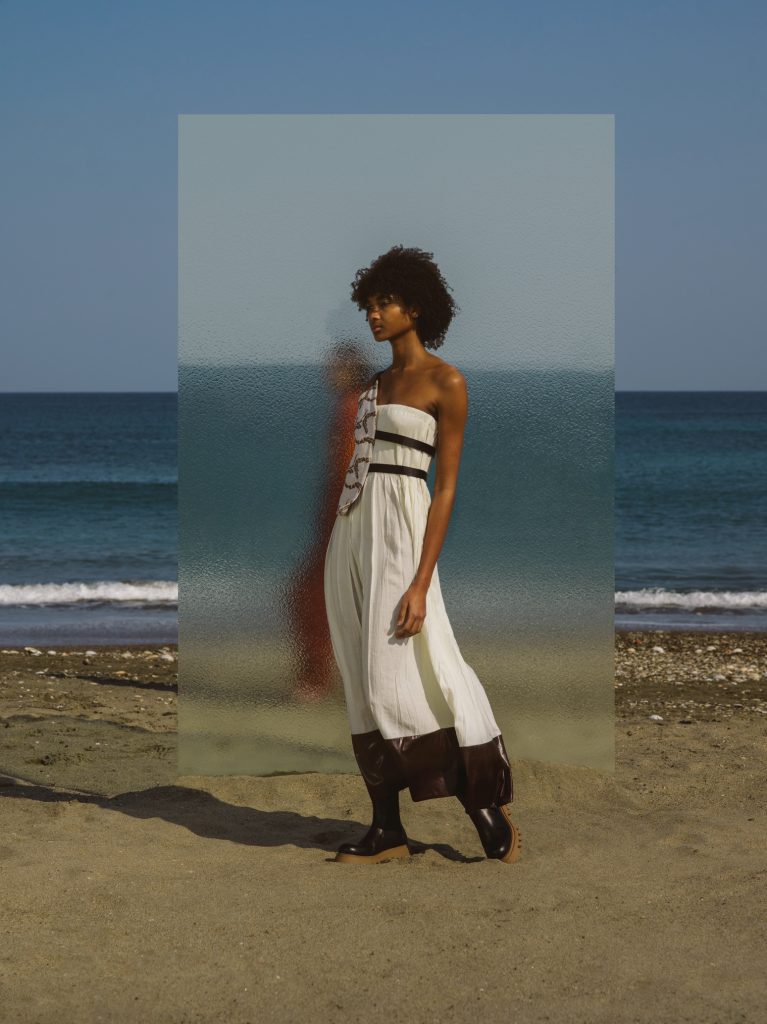 The brand has been gathering attention with its highly imaginative collection featuring unique, experimental use of color and material. Their 2021AW collection was inspired by the American painter Mark Lothko. Chisung Ihn said: "At first, 'Sublimity' came up as the theme of this season, then Lothko's art perfectly clicked with it. His abstract, mysterious imagery moved me forward to visualize something sublime in fashion. Also at these difficult times, my thoughts had always been drawn to the people in sublime acts, especially medical workers."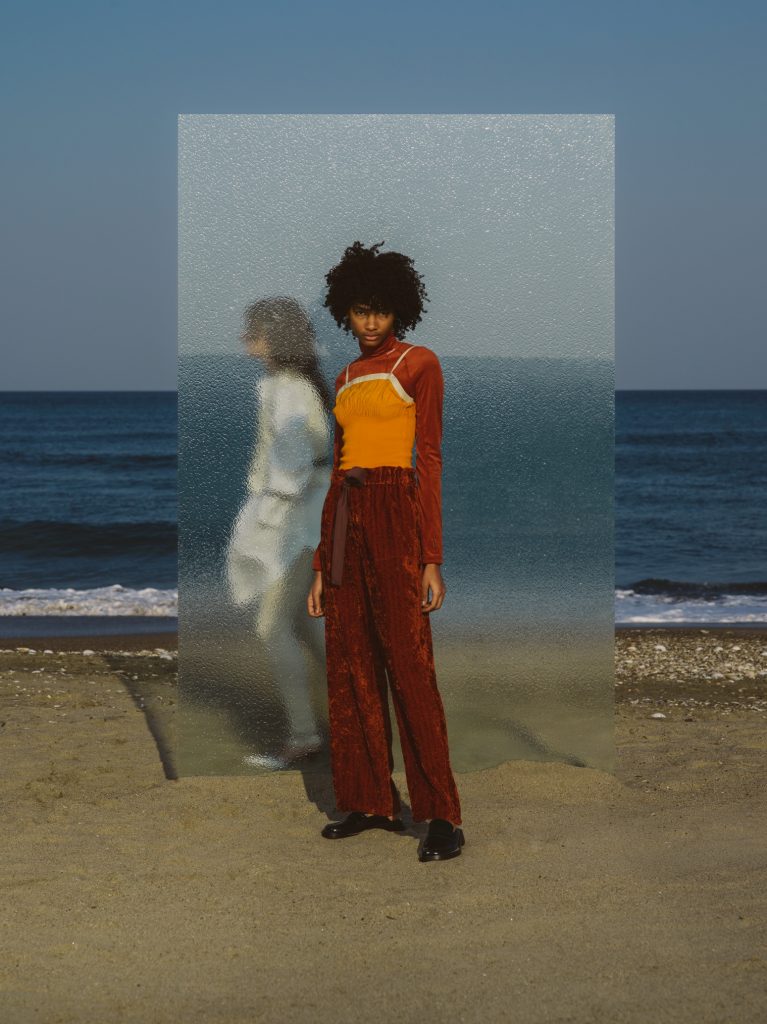 In autumn 2020, Chisung had a first chance to visit Kiryu. Introduced through his alma mater, Bunka Fashion Graduate University, he visited several weavers in Kiryu.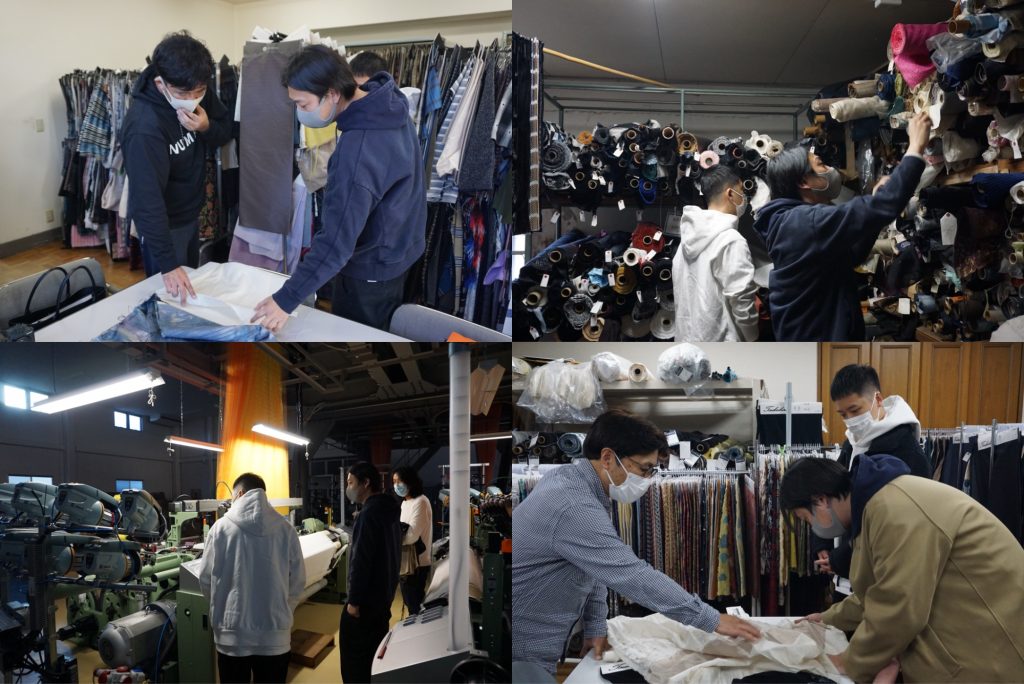 "To be honest, woven silk from Kiryu had only made me think of the traditional Japanese kimono. On my first visit, my mindset was changed by a happy surprise. KOBATO's archive was truly inspiring, with an amazing variety of fabrics. I have never used Jacquard in my designs before, but I was struck with an idea that classic Jacquards can be quite a novelty if they are presented in a contemporary style."
Chisung watched KOBATO's special machine that can weave the yarns with different widths. From this machine, he ordered a bespoke chenille Jacquard of ivy pattern in 24cm pitch, with three colors of yarn. It was based on an archived sample that was modified.
"Thick chenille yarn requires a specific type of rapier loom, as well as much attention, to produce clear graphic patterns with them", said Ohashi, KOBATO's sales manager. The result was a Jacquard fabric that exactly met the designer's expectation; the fabric's classic pattern reworked into a novel touch.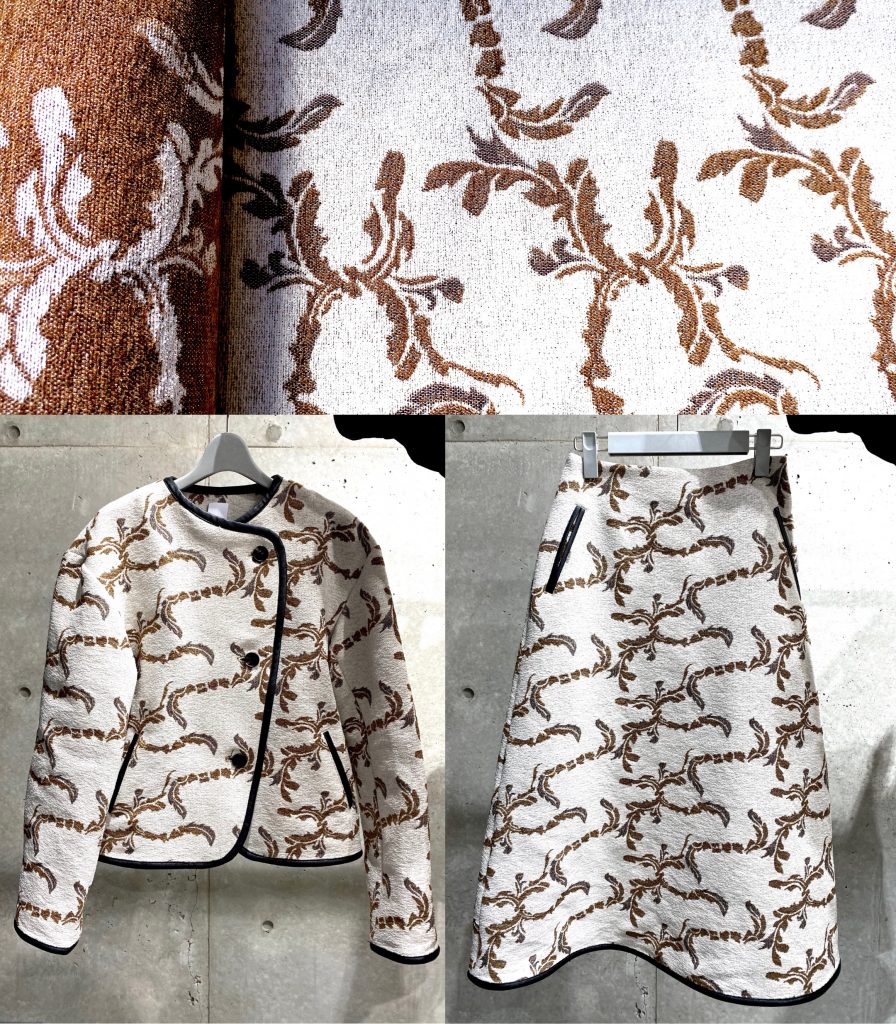 At Kiryu Seisen, the designer selected a fabric with a reflective sheen. "Fishing lines are used as yarn with this fabric, and it is lined with cotton. IHNN took many samples to choose from, such as mid-weight, heavy-weight and different finishes, then ordered a heavy-weight in his preferred color," said Abe from Kiryu Seisen. Using this fabric, IHNN designed hooded jackets.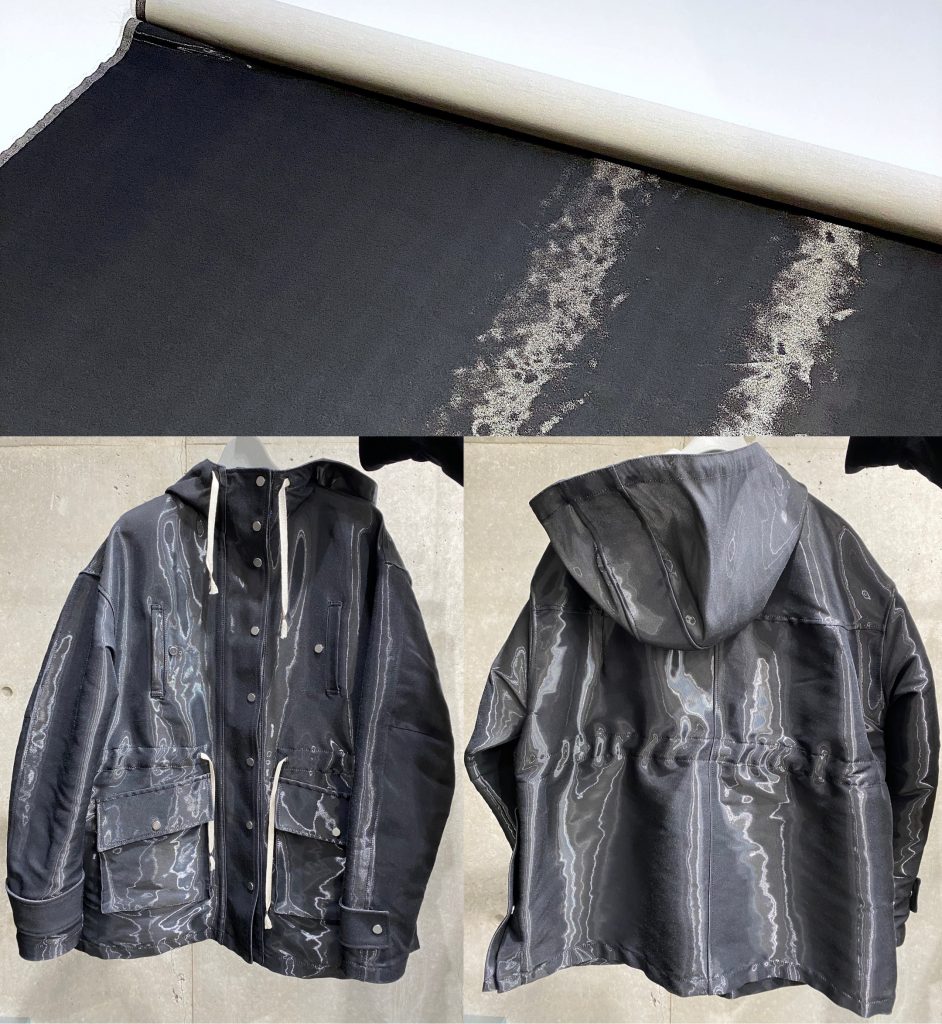 Another weaver, TSUKUHIRO, is famous for it's clipped Jacquard, but the designer picked something else; a mixed plain nylon/rayon, with fine shirring woven in. The designer said: "This might not be TSUKUHIRO's most prominent range, but it's still very interesting." Much work went into achieving the shades of orange and ecru that the designer specified. The weaver first crafted several yarn-dyed samples, moving on to fabric-dyeing at the end of the process.

"Although the schedule was tight, I experienced absolutely no stress in the whole process as everyone involved was so enthusiastic and attentive. Direct deals with weavers made economical sense for me as well. With all the state-of-the-art fabrics and exclusive techniques, which are not limited to Jacquard, I am sure Kiryu has a lot of potential that can further inspire my new project," the designer said. This stunning collaboration between IHNN's design and KIRYU textile should not be missed.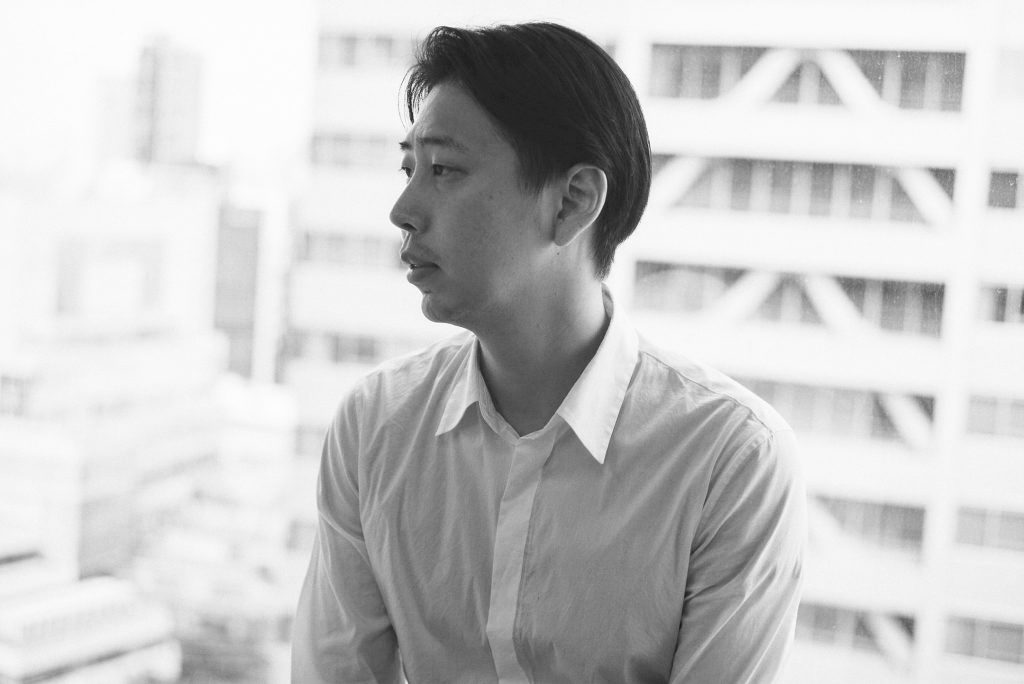 Chisung Ihn
Born in Seoul, South Korea. After studying at Bunka Fashion College, Chisung moved on to Bunka Fashion Graduate University with his successful graduate show held in London. In 2015, he set up his brand IHNN based in Tokyo, and led the brand to the fashion weeks in Tokyo, Seoul and London. IHNN won the Tokyo New Designer Fashion Grand Prix for Pro (2016), the Tokyo Fashion Award (2019) and more awards.
http://www.ihnn-design.com/
●If you would like to work with KIRYU textile…
The collaboration with young designers has already attracted wide attention in the industry, and KIRYU textiles will be happy to meet more emerging fashion designers. You will get the chance to team up with the top weaving manufacturers in Japan, featuring state-of-the-art jacquard fabrics for your ambitious fashion projects. Please leave a message via the contact form on this website.