TRADITION AND HISTORY
OVER 1000YEARS
The legacy nurtured by history and the outstanding technical advantage are at
the core of the Kiryu textile.
The Background of Kiryu Silkweaving
Kiryu city is located at the eastern end of Gunma Prefecture, which spreads north of Kanto region containing the capital Tokyo. Located in a basin surrounded by the scenic Akagi Mountains, and sandwiched by two rivers, the city is endowed with rich natural resources and water. This environment proved to be an ideal cradle for humans, as the excavated archeological artefacts show many settlements from the Stone Age.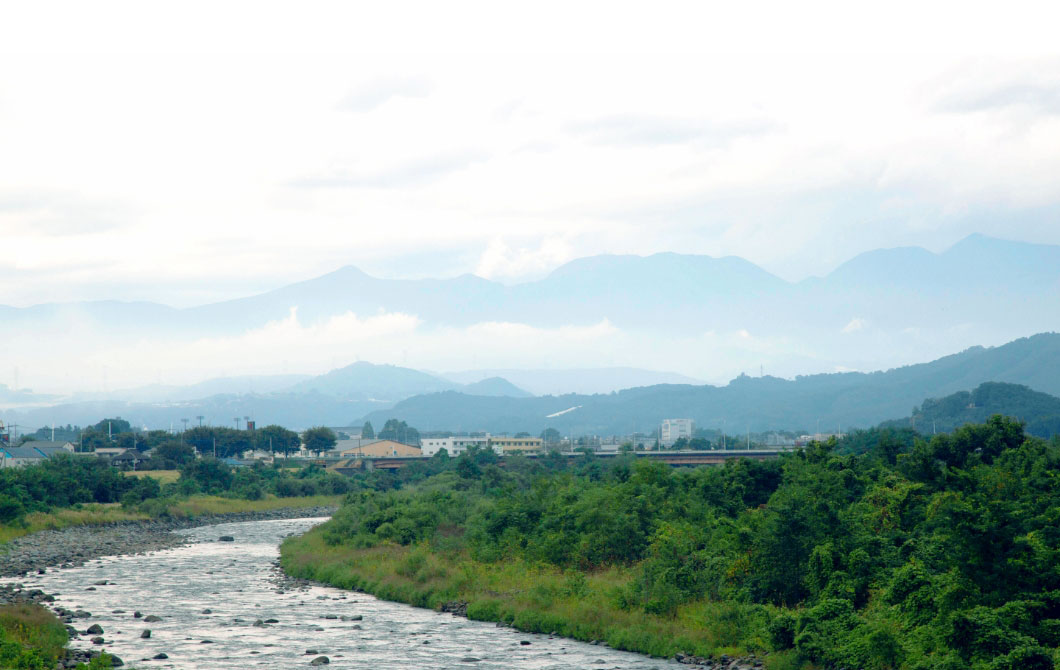 The oldest record about Kiryu silk is found in Shoku-Nihongi, one of the most important chronicles about early Japanese history, dating back to the 8th century AD. The legend tells that a noble lady, Shirataki, married a local man and brought silk spinning and weaving to the area. Kiryu silk were also offered to the royals as a notable local product of that time. Fast forward to the 16th century, Kiryu silk enjoyed a fame associated with the powerful warlord House of Tokugawa, who used it for their banner at the epic battle in 1600.
Since the mid-18th century, Kiryu silk-weaving used a systematic division of manual labour, which promoted a new manufacturing method. The good quality silkworms from the local Akagi Mountains also helped Kiryu develop into an early modern industrial city, with it's regular silk market thriving each year.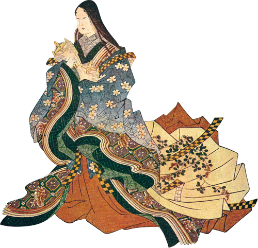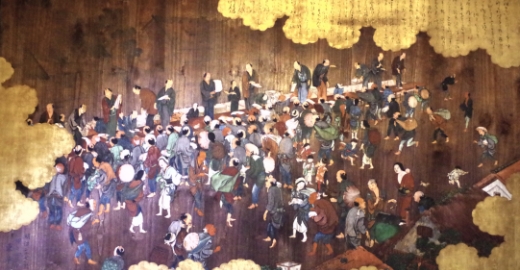 "Kiryu Saya Market" depicts the busy silk market in the city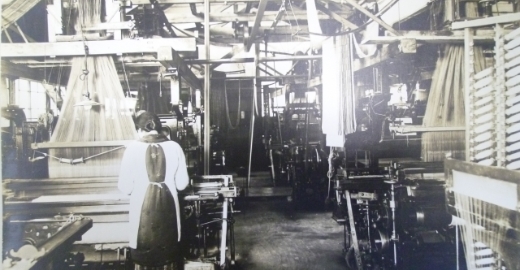 A weaving factory in Kiryu, Taisho era (1912〜1926)
In the early Showa era (1926〜), Kiryu had 9,820 jacquard and 1,128 dobby power looms. This means Kiryu had already focused on high-end pattern weaving. Unfortunately, World War II had a devastating impact on its textile industry, as many factories were compelled to convert to production of military equipment. Right after the end of the war, Kiryu weavers had restored as many as 3,000 power looms and swiftly started producing again. Led by successful export products such as viscous rayon scarves, the war-torn city showed an amazing recovery, deserving to be called the city of weavers.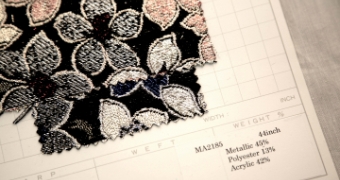 Fashion fabrics for export played a crucial role in Kiryu after the war.
From traditional weaving to modern fashion textile
As post-war Japan's lifestyle changed, so did textile industry's role, quickly moving into the field of fashion apparel. In 1977, the Japanese Ministry of Industry and Commerce officially listed Kiryu Weaving as a Japanese traditional craft, accrediting seven specific weaving techniques that were historically developed in Kiryu. On the other hand, the city quickly expanded its new range of export products, women's fashion fabrics and furnishing products, and actively exhibited in Japan and overseas. It did not take long for Kiryu to establish its international reputation as a cutting-edge fashion textile centre. Based on jacquard and dobby machines, Kiryu was now producing a surprisingly wide range of quality products. Yarn dyed, fabric dyed, printed or knitted textiles were skilfully combined with various weaving techniques, as well as with whatever natural (such as silk) or synthetic materials. To this day, Kiryu is the world's major producer of high quality woven fabrics that is able to meet any specific demand.