Bespoke Fabric Project for VIVIANO, Vol.1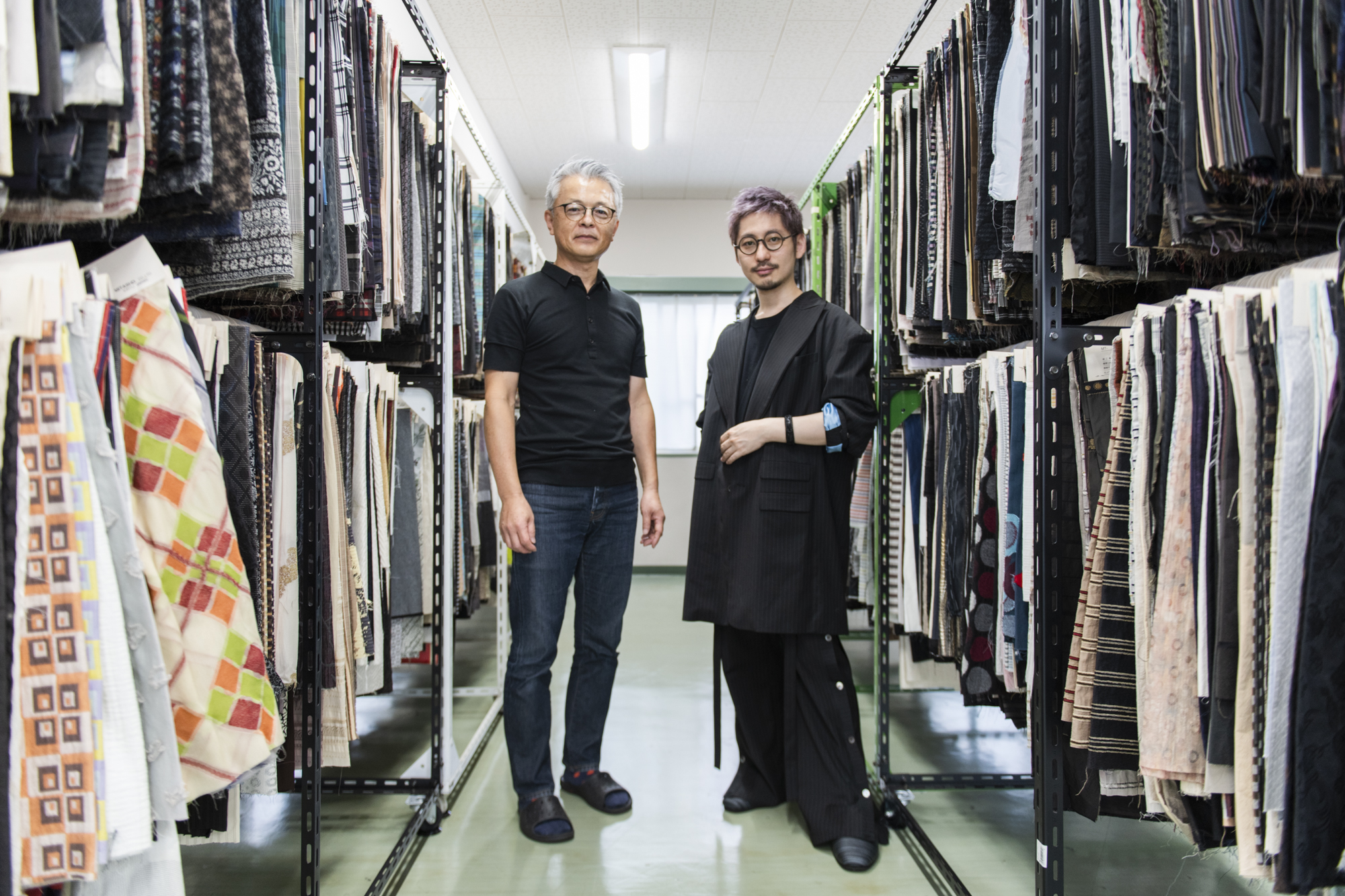 Emerging fashion brand VIVIANO has teamed up again with KIRYU textiles for it's 2021AW collection. This time, the designer Viviano Sue had an opportunity to visit three different manufacturers to source the fabrics.
"The fabrics I have featured in the last two shows had vivid graphic patterns. For the next show, I would like to bring more subtle, ambiguous imagery on the fabrics", Viviano said, with the weaver Kiryu Seisen Shoji in mind.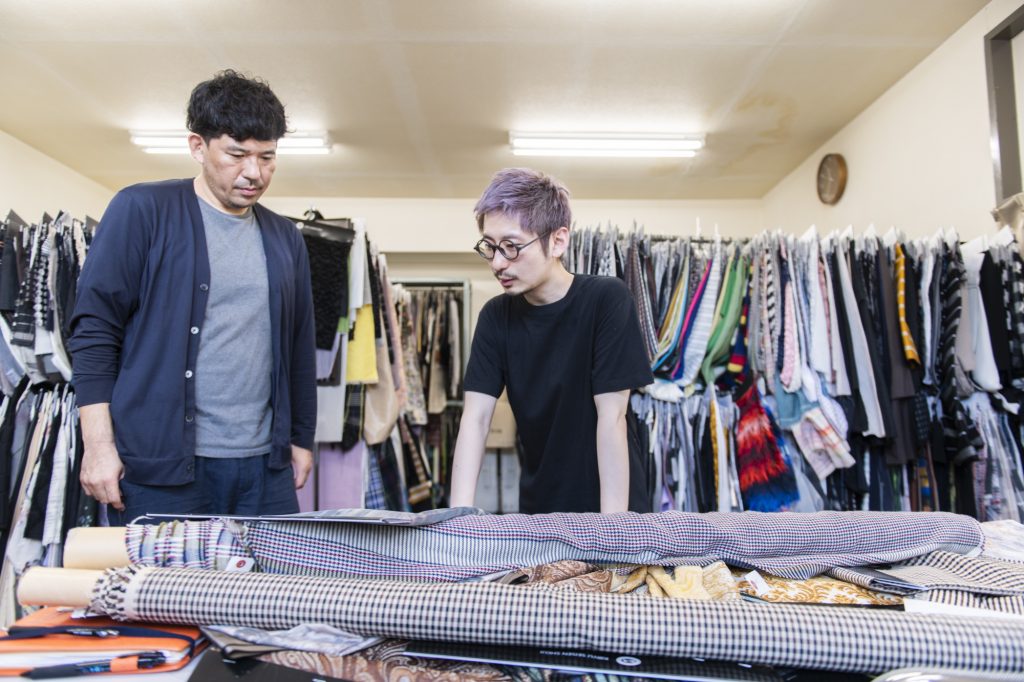 Abe Tetsuya, the managing director of Kiryu Seisen Shoji, said: "Actually, it was a surprise for us that the designer wanted to team up with us. Kiryu is renowned for its Jacquard fil-coupé, but we are rather a Dobbie specialist weaver."
Viviano saw Kiryu Seisen Shoji's website and was so attracted to the sample images there. The fabric has a reflective sheen and is specially made with fishing thread.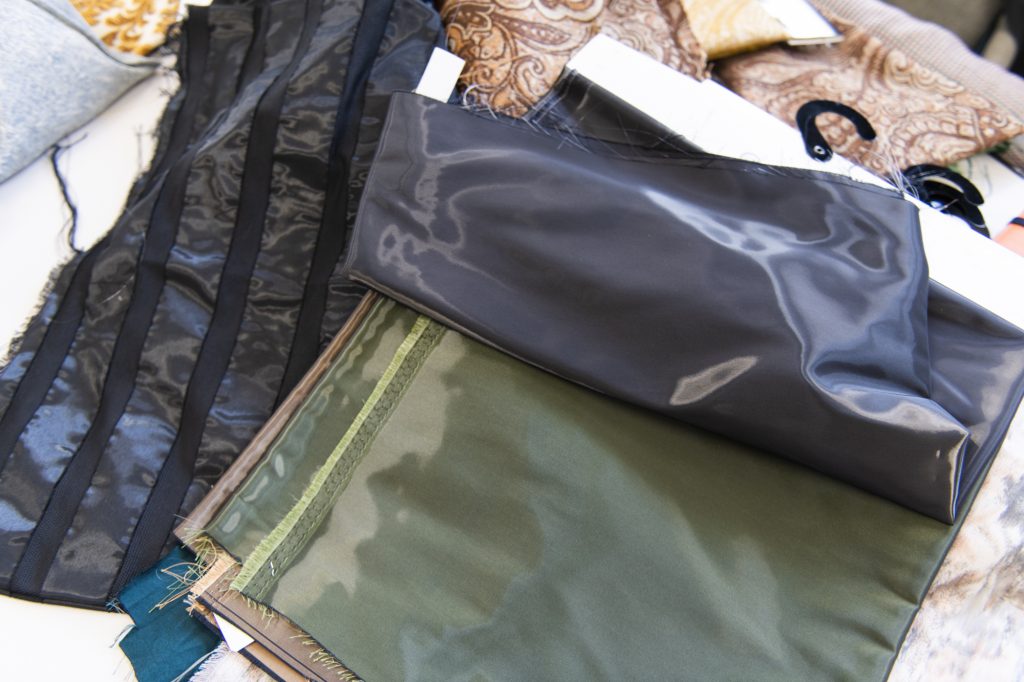 At the company's studio, Viviano was instantly absorbed by their many signature products. One fabric has a faux-ikat effect, achieved by a transfer-print technique on the warps. Another uses a graphic pattern with the feel of an oil painting, based on Kiryu's legacy of elaborate punch-hall card designs. Thick tapestry fabrics often used for bags also drew Viviano's attention. "To be honest, I want to feature every one of them", he remarked.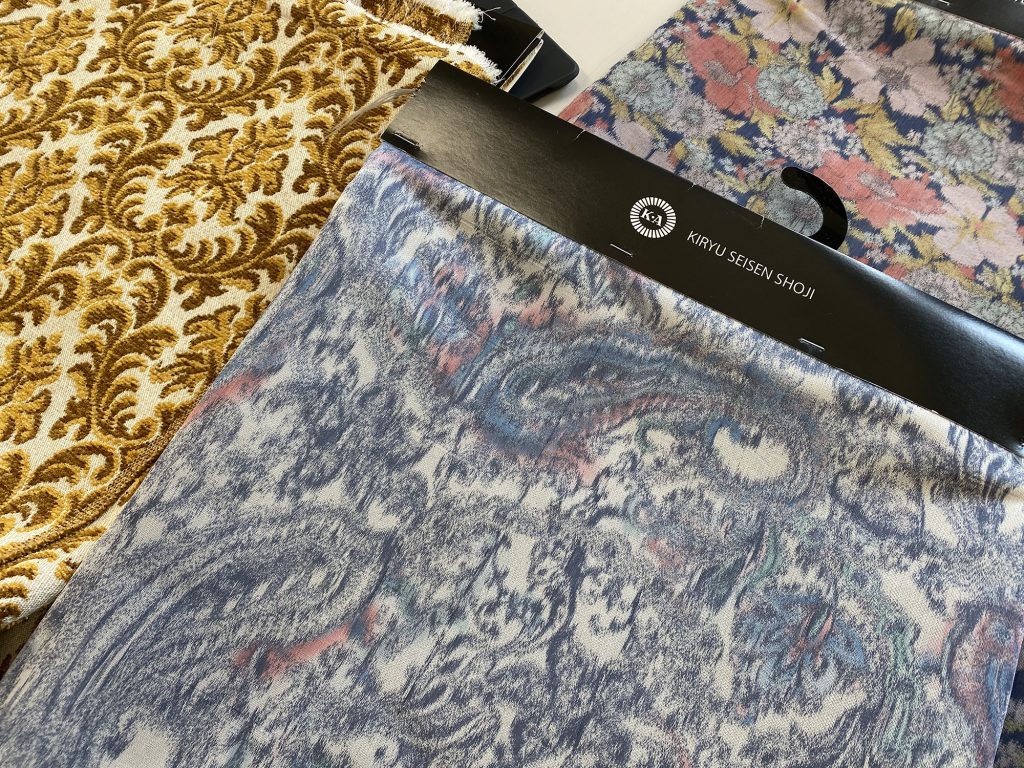 Kiryu Seisen Shoji's speciality Dobbies particularly made Viviano's eyes shine. "These are exactly what I have been looking for!" he said, pointing at the tasteful checks and borders.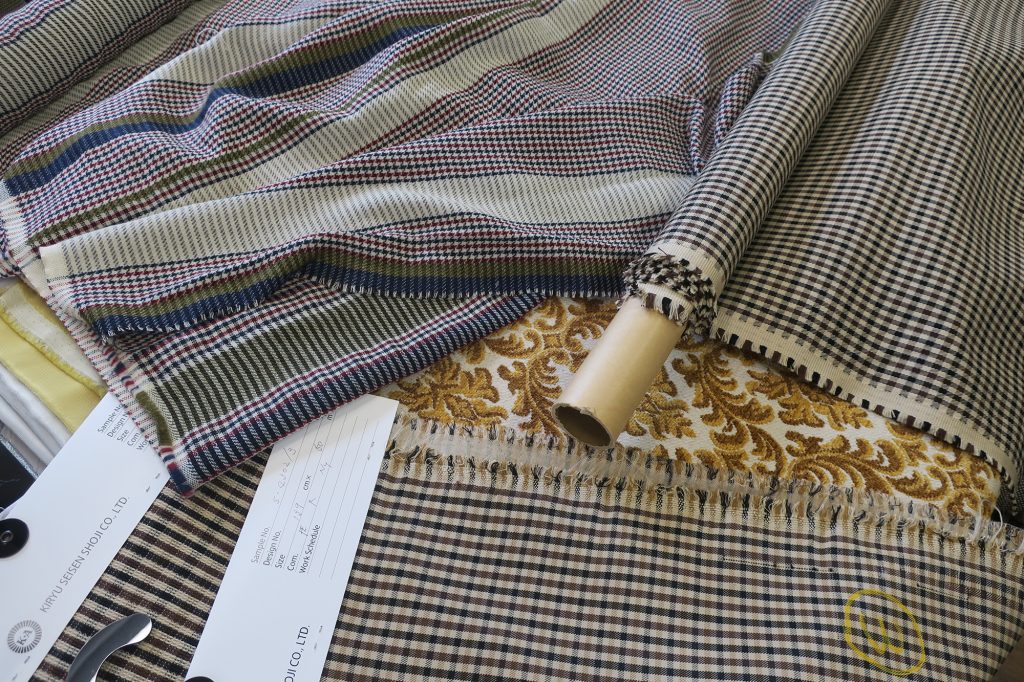 Viviano's next stop was at fabric maker Tsukuhiro, and this was their second planned collaboration. He was welcomed by a vivid display of fil-coupé Jacquards.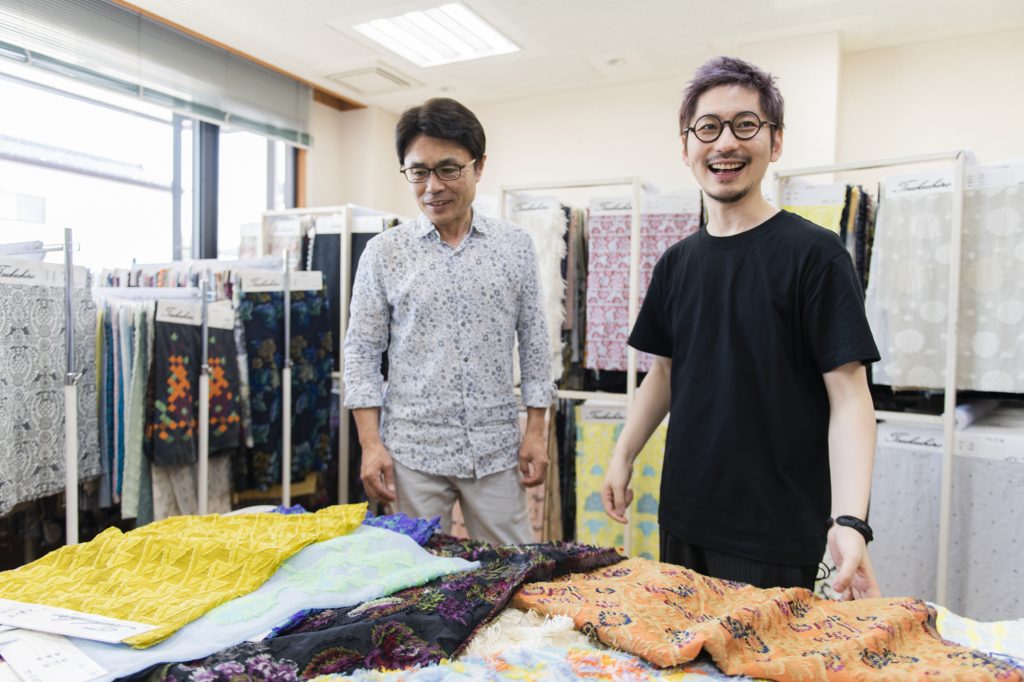 Viviano suggested to Tsukuhiro's director, Keisuke Tsukui, "To bring a more blurred effect to Jacquard, what about leaving the weft thread on without clipping?" Tsukui replied: "That is a viable idea, only if the excess weft thread can stay manageable, not catching on everything. It is also a cost effective suggestion with less work on the painstaking clipping process".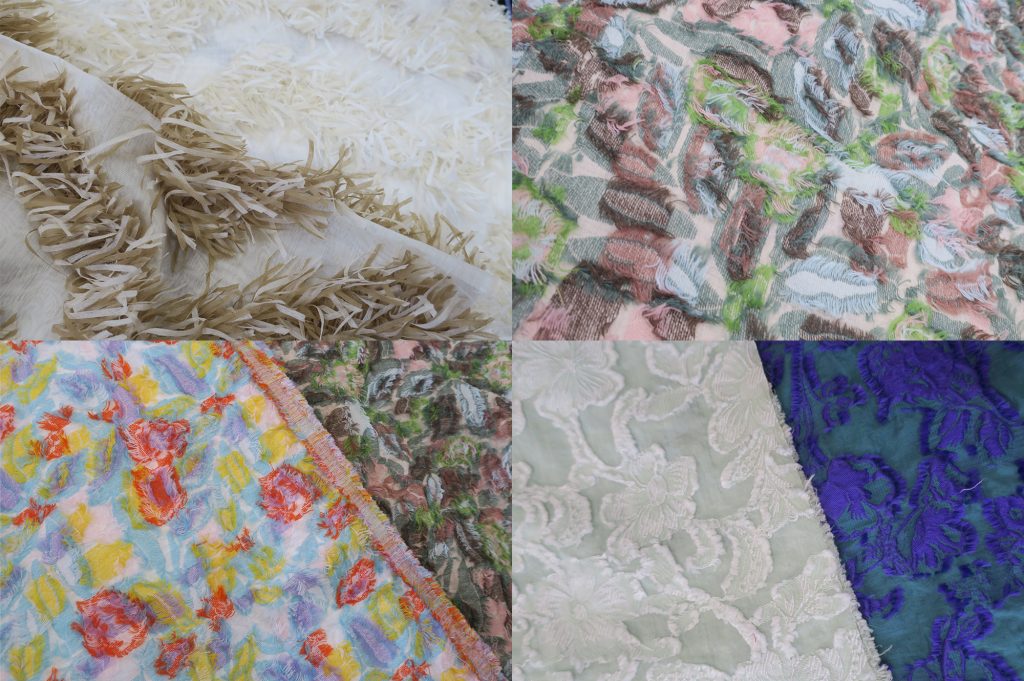 Viviano responded, "Probably, adding a thin layer of organza on the excess weft would be the best solution. It would make a good overcoat fabric. Or rather, tailoring a garment with 'unfinished' fabric can be an interesting proposal. In that case, I would hand clip the excess weft at my studio, customising it into my design".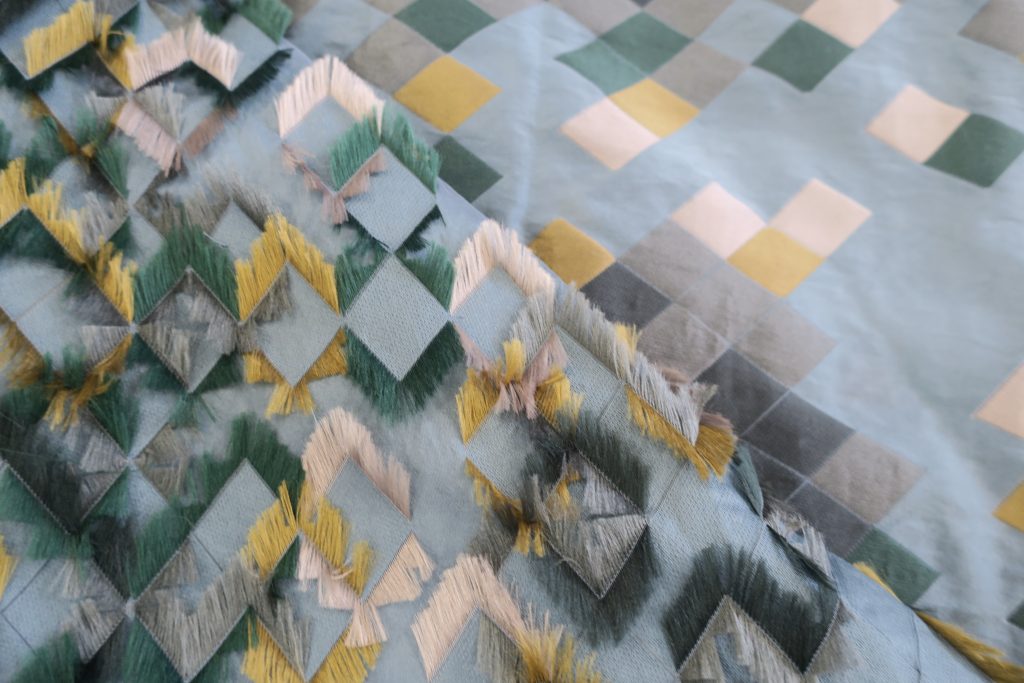 The last weaver Viviano visited was Mitasho, also a second time collaborator. The managing director, Eiji Mita, is familiar with the designer, having visited Shanghai Fashion Week with him in 2019.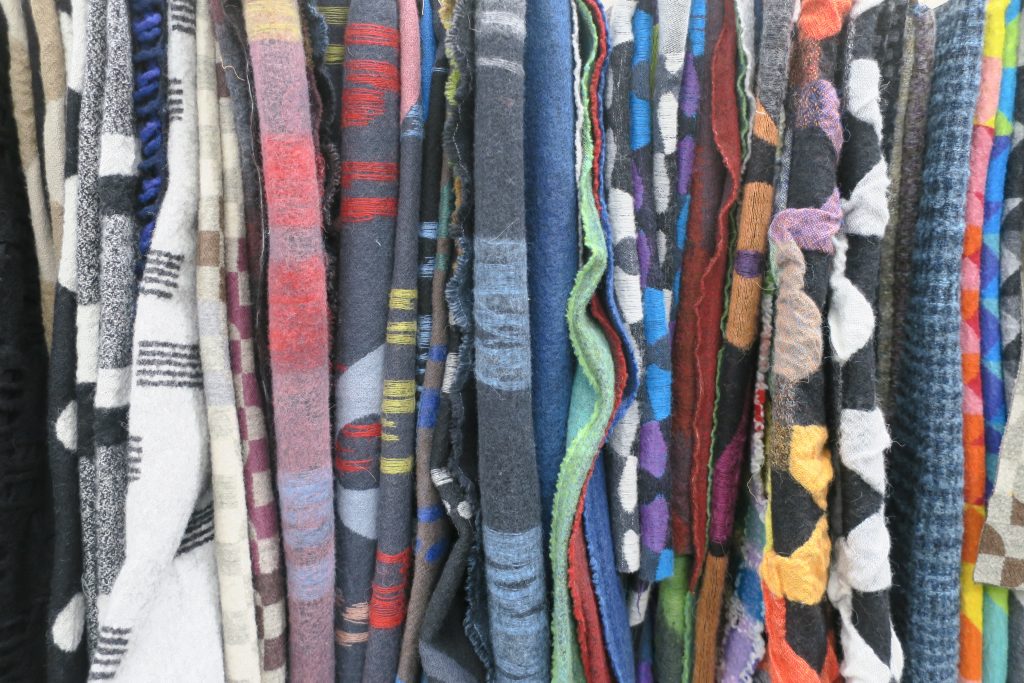 As well as Jacquard, Mitasho is highly acclaimed for its quality woollen fabrics. Mita received a barrage of questions and suggestions from the excited young designer: Woollen fabrics with more uneven surfaces? Changing patterns in one piece of fabric, for example, dogtooth morphing into stripes and then to checks?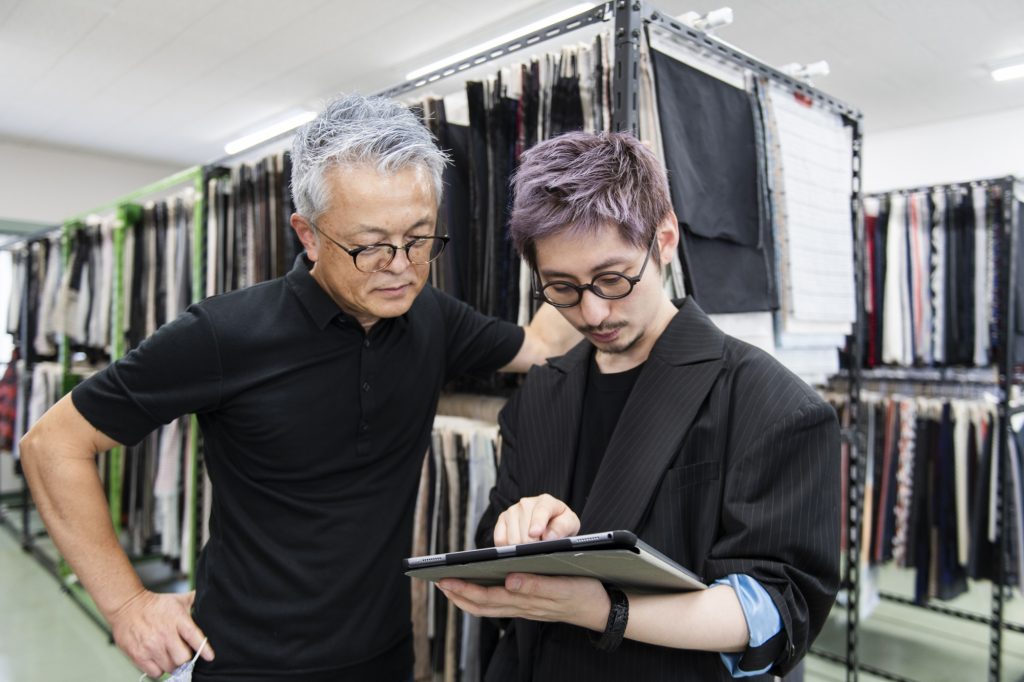 ''We can manage those, with the Fu-tsu silk weaving technique applied to wool weaving," Mita said. "Most technical challenges could be overcome with that. Let's start with samples to build up the images." The pair have quickly moved on with the yet to be unveiled bespoke fabrics, exploring their new creation.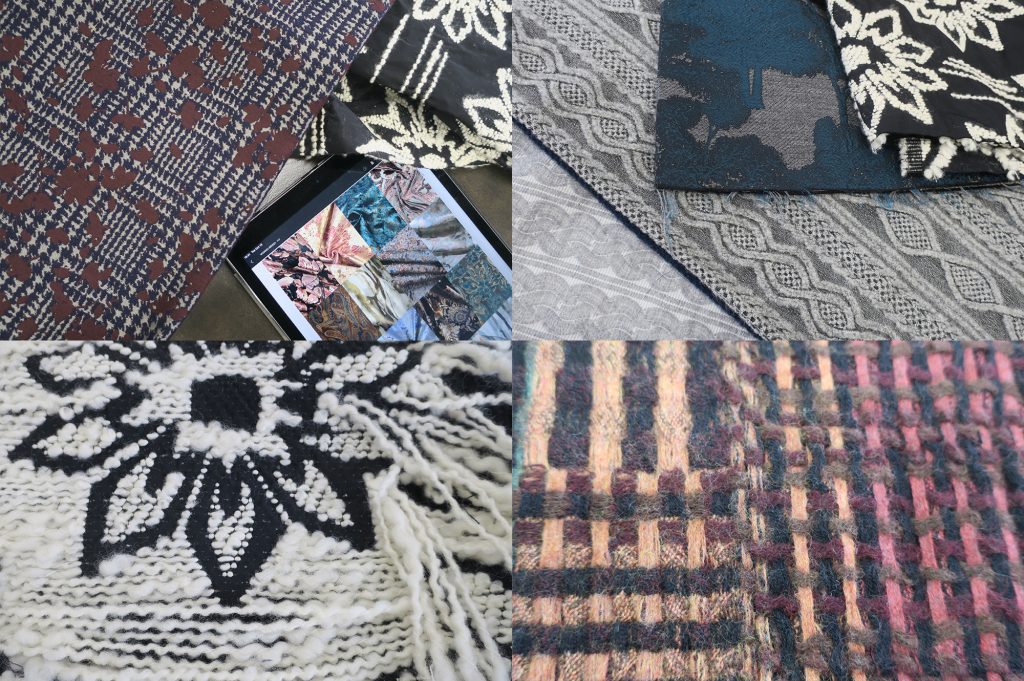 "Most designers would not actually visit weaving manufacturers. Having in-person contact with emerging designers brings a lot to us, with precious insights into what is in their minds, what aspects they focus on. I do believe these projects will lead to creative growth on both sides through the jointly developed product line," Mita said.
Viviano also said the direct contact with the weavers brought vital momentum to his projects. "At every visit, I find something new and inspiring, and get sparked with ideas. I strongly urge fellow designers to visit manufacturers, to see the real things with their own eyes. You don't want to be a fashion designer not knowing the best fabrics, after all".

"Perhaps the biggest challenge for young designers to use Kiryu fabrics would be its cost", Viviano did not miss to comment. "'Made in Japan' quality products used to sell well, however costly. That is no longer true. Chinese fashion apparel manufacturers are keeping up with the quality, including machine sewing, and many designers are looking to that. Japanese manufacturers are required to be as competitive as ever".
How will Viviano and Kiryu's weavers address the challenges of the cost? In the next report, we will find out through the fabric sampling of their project.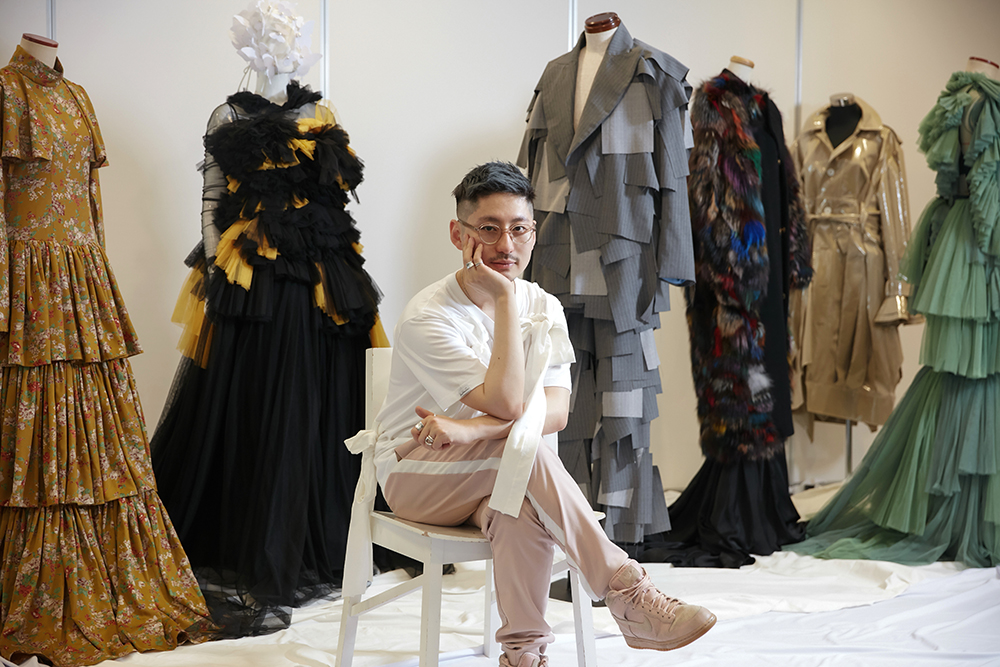 VIVIANO SUE
Born in China, grew up in the USA, and living in Tokyo since 2008. After finishing a diploma at Bunka Fashion College (Tokyo), Viviano set up his own brand and started bridal and couture work. The brand moved on to launch Prêt-à-Porter lines. Based on his background in three countries, Viviano draws inspiration from the crossover of Eastern and Western cultures. As seen in the articles of Vogue, Superior Magazine, GlamourUK and L'Officiel, he is much anticipated as an up-and-coming designer.
●If you would like to work with KIRYU textile…
The collaboration with Viviano Sue has already attracted wide attention in the industry, and KIRYU textiles will be happy to meet more emerging fashion designers. You will get the chance to team up with the top weaving manufacturers in Japan, featuring state-of-the-art jacquard fabrics for your ambitious fashion projects. Please leave a message via the contact form on this website.